SG Constructors speaks to CBC about pandemic rebound, wage increases and critical shortage of labour supply.
Mar 14th, 2022
Matt Stainton of SG Constructors speaks to CBC and CBC National about the pandemic rebound in construction, wage increases and the critical shortage of supply in the industry's labour force.
On March 11, 2022 I was pleased to be asked to appear on CBC Toronto and CBC Nation News by Senior Business Reporter Jacqueline Hansen.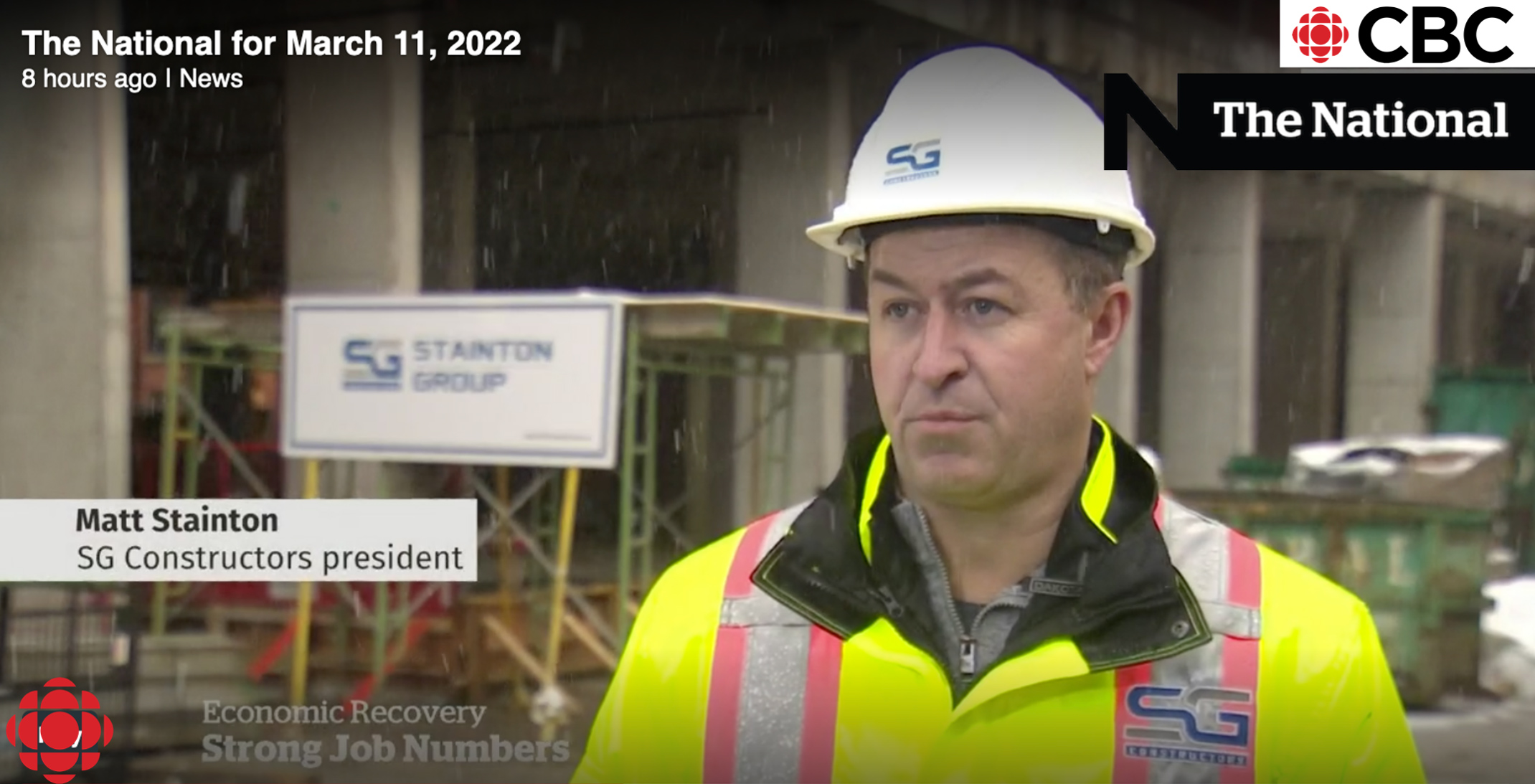 In this segment she explores the sectors that are not just driving the overall growth in the labour force, but how demand and resulting employer competition is driving a spike in average wages. In some cases, like construction, those wage surges are unprecedented.
The overall job market roaring back in February with 337,000 new jobs added or nearly triple what some economist predicted pushing the unemployment rate down to 5.5% a rate that hasn't been that low since before the pandemic. The lifting of restrictions has and will continue to increase end-consumer demand which is causing corresponding increases in demand and competition for all employees and a resulting upward pressure on average wages – up 3% from last year but still short of the rising cost of living. However, within the construction sector – that has continued on throughout the pandemic and driven Canadian Construction Industry production to some of the highest levels in history – wage increases have soared even more.
In our (construction) industry, recent hiring has surged by 30% and now surpassed pre-pandemic levels. But despite this spike in construction hiring levels, the demand for skilled talent remains. And, more ominously, the demand is expected to remain unmet for quite some time. So now, in some cases, skilled construction jobs have seen average wages that are currently 30-40% higher than they were two years ago.
So what's the solution? As mentioned in my comment on CBC, we need to continue to work with schools to produce the talent needed to fuel the demand for this constantly growing industry. However, in order to do so we need to first break the stereotypes about careers in construction and this starts with parents and early educators. We, as an industry and a society, need to ensure our educational system changes its mindset and eradicates stereotypes in construction to help grow a new pool of talented workers on which we can literally build our future.
As I have said for a long-time, 'talk to your kids about real careers in construction'.